Environmental Compliance & Certifications
Tropicana recognises the significance of stringent environmental and development laws to regulate industrial pollution, protect Malaysia's privileged status as one of the world's 17 megadiverse countries and our citizens' quality of life. The Group complies fully with local and national environmental regulations, with zero fines and non-monetary sanctions in 2021 and 2022.
National & Local Regulations:
Environmental Quality Act 1974
Housing Development (Control and Licensing) Act 1966
Land Development Act 1956
National Landscape Policy
Perumahan Rakyat 1Malaysia Act 2012
Environmental Impact Assessment for prescribed activities
Town and Country Planning Act 1976
Strata Management Act 2013
Manual Guideline and Selangor State Planning Standards
Furthermore, several Tropicana projects have been awarded bronze, silver and gold certifications from the Green Building Index ("GBI) and GreenRE in recent years. GBI is the first green building rating tool designed specifically for Malaysia's tropical climate and socioeconomic context.
Developed by the Malaysian Institute of Architects and the Association of Consulting Engineers Malaysia, GBI is affiliated with and complies with the World Green Building Council standards. GreenRE, and alternative to GBI, is driven by the Real Estate and Housing Developers' Association Malaysia ("Rehda").
A developer must incorporate concrete measures to enhance a site's water and energy efficiencies, indoor environmental quality, lower carbon emissions, optimise the use of construction materials and more to secure a GBI or GreenRE certification.
A list of Tropicana projects that have obtained GBI or GreenRE certification can be found below.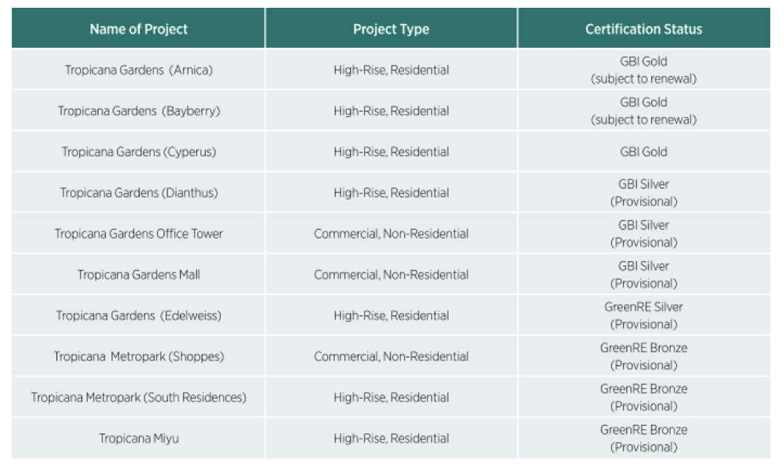 Tropicana applies innovative building designs that offer natural ventilation and lighting to reduce electricity consumption and wastage. Some examples of energy-efficient features installed across our developments can be found below: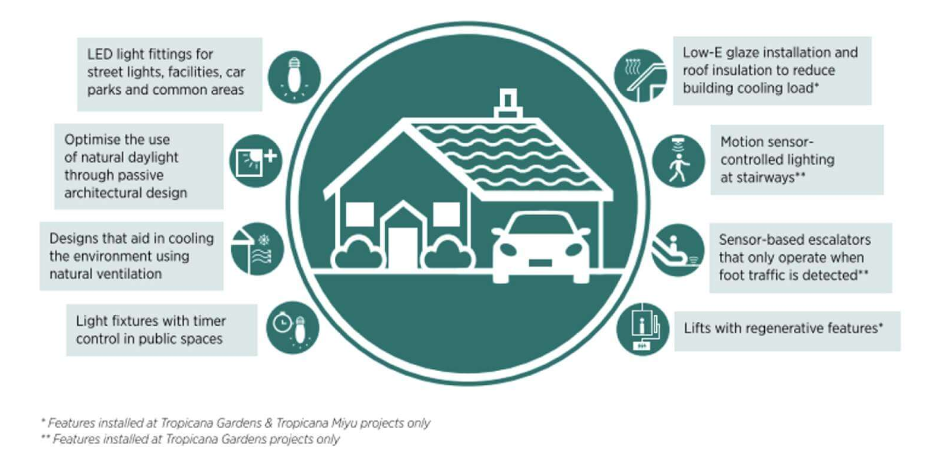 Renewable Energy Projects
We embarked on an exciting project to install solar panels at Tropicana's pioneer resort-themed development, Tropicana Golf & Country Resort ("TGCR"), Petaling Jaya in 2021. Installation of the 2,214 solar photovoltaic panels commenced in March 2021. The panels, spread across 53,204 sq ft of rooftop space at TGCR's clubhouse, were fully operational by September 2021.
TGCR Solar Panel Project:
2,214 PV panels installed
107,000 kWh electricity generated a month
Tropicana had earlier introduced renewable energy projects in other developments in Klang Valley. For instance, Tropicana Metropark in Subang Jaya features windmills that power water turbines in an innovative bio-filtration system to maintain the water quality in the development's 4.41-acres lake.