Tropicana Go Go Fit Park Adventure Race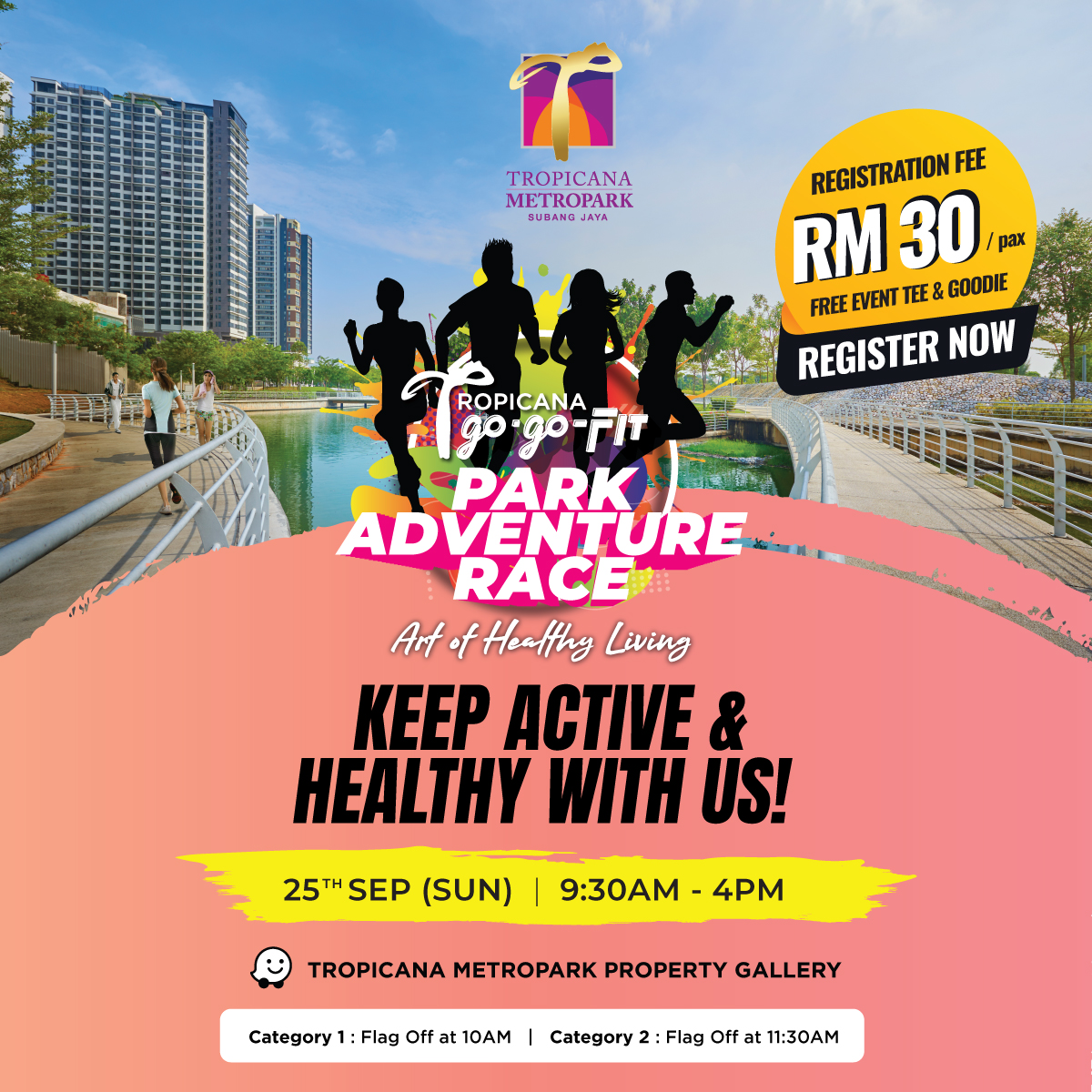 Register
Event Information
Venue

TROPICANA METROPARK PROPERTY GALLERY
Dates

25 Sep 2022 - 25 Sep 2022
Time

09:30 am - 04:00 pm
About the Event
Hello to all park & fitness lovers! Inviting you to join our go-go-FIT Park Adventure Race.  
Up for a challenge? Tropicana Metropark is organising Tropicana go-go-FIT Park Adventure Race at Tropicana Metropark Urban Park. Complete different challenges in the stations and get a chance to win up to RM2,000 worth of prizes*.
You can form your own team with your family or friends (3 - 4 pax per team) or join as an individual. Registration fee is RM30/pax. 
Not only that, we have other go-go-FIT activities, such as a health screening test, a juice-making workshop and a mini health & wellness fair.
𝗧𝗿𝗼𝗽𝗶𝗰𝗮𝗻𝗮 𝗠𝗲𝘁𝗿𝗼𝗽𝗮𝗿𝗸 𝗴𝗼-𝗴𝗼-𝗙𝗜𝗧 𝗣𝗮𝗿𝗸 𝗔𝗱𝘃𝗲𝗻𝘁𝘂𝗿𝗲 𝗥𝗮𝗰𝗲
Date: 25 September 2022 (Sun)
Time: 9.30am - 4pm 
Venue: Tropicana Metropark Property Gallery 
For registration, sign up at https://bit.ly/3ej0AJ5
*T&Cs apply.